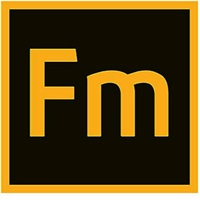 Adobe FrameMaker 2019
Rating: 5.00 (Votes: 1)
A tool to make lessons and tutorials and add different multimedia elements such as images and videos with effects. Can be used easily with professional tools.
The password for the zip file is : 123
Description :
FrameMaker is software from the American company Adobe for text processing and desktop publishing. Using this program, large and complex documents can be written and edited. In fact, this program is designed to make the job easier for professional writers. FrameMaker was added to Adobe's products when Frame Technology was acquired by Adobe. After that, Adobe added SGML support to the software to date, which also supports xml format. In 2004, support for Macintosh was discontinued in accordance with the company's policies. FrameMaker has two approaches to documentation, one is structural and the other is non-structural and free.
Structural mode is used in documents that are bound by a set of standards and specific templates, such as the pharmaceutical industry, where translation and standardization are one of the most important requirements for logical communication between products. Structurally, it uses concepts such as SGML and XML, and the author deals with EDDs or Element Definition Document – a special mode of DTD for this program. EDD
The general format defines the document with meaningful units such as xml tags, and based on the content of each document, this EDD will have its own structure. Features or metadata can also be added to these components, making it possible to filter content in output processes (in cases such as print output or web-based display). The author can view the conditions and content in a tree-like structure extracted from the grammar of that text. FrameMaker is not structurally constrained, and the author's paragraphs can be written without any logical structure, and all tags, topics, and document formatting are at the author's discretion.
Required System :
– 64-bit Intel® Pentium® Core i3 or faster processor
– Microsoft Windows 10, 8.1, or 7
– 2 GB of RAM (4 GB or more recommended)
– 3 GB of hard-disk space available for installation; additional free space required during installation (cannot be installed on a volume that uses a case-sensitive file system or on removable flash storage devices)
– JRE 8
– Maximum supported screen resolution – 4K (3480 x 2160, 8.3 megapixel, aspect ratio 16: 9 )
Based on 1 Votes and 0 User Reviews
Other Programs in This Category