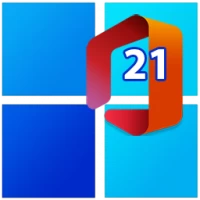 Windows 11 Pro with Office 2021 Pro Plus
Rating: 5.00 (Votes: 3)
Free download Microsoft Windows 11 Pro with Microsoft Office 2021 Professional Plus pre-installed pre-activated 64-bit ISO with direct download links.
The password for the zip file is : 123
Windows 11 Pro + Office 2021 Pro Plus Overview
Designed this build to work on clean install only. None of the windows features have been removed, and no cosmetics have been implemented.
The activation was based on MS procedure; for that matter, it required an internet connection during the installation process. also integrated net Framework.

Microsoft Office 2021 was integrated and also activated. However, there are things that we must consider.
First, I created a task scheduler to check the activation weekly and perform auto-renew.
Second, there was automation created to placed SppExtComObjHook.dll here C:\Windows\system32\SppExtComObjHook.dll
The SppExtComObjHook.dll is needed for KMS38 activation. The SppExtComObjHook.dll is flagged by anti-virus, false-positive. For that reason, there was automation made to exclude the file for virus scan. You see it in the windows defender exclusion list.
Those two things are necessary for the conduct of auto-renewal for office activation.
Nevertheless, everything is done automatically without the administrator's intervention.
During the installation process, don't be surprised if there is a certain delay due to the installation of office 2021.

Included:
- Update Office To Version 2203 Build 15028.20204
- Update OS Build22000.613

Languages:
- Arabic, English, German, Greek, French, Spanish, Italian, Portuguese-Portuguese, Portuguese-Brazil, Turkish, Bulgarian, Etc.

System Requirements
Processor: 2 gigahertz (GHz) or faster.
RAM: 2 gigabytes (GB).
Free space on hard disk: 40 gigabytes (GB).
Graphics card: DirectX 9 graphics device or a newer version.
Additional requirements to use certain features.
To use touch, you need a tablet or monitor that supports multitouch.
To access the Windows store to download and run apps, you need an active Internet connection and a screen resolution of at least 1024 x 768 pixels.


Based on 3 Votes and 1 User Reviews
Other Programs in This Category